Category:CPanel
From Acenet Knowledgebase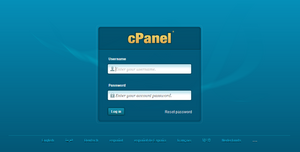 cPanel is the industry leading control panel for managing every aspect of your website. All Shared Web Hosting and Reseller Hosting plans with Acenet include the cPanel control panel for managing your domain(s).
Your cPanel information, including username, password, and login link are included in your Welcome Email you received when you first signed up. If you are having trouble logging into cPanel, please see How to change your cPanel password.
The guides below provide some tips on the general usage of cPanel features. These articles are targeted toward end-users of cPanel, that is, users who login directly to the cPanel portal.
If you are a Reseller and you wish to begin creating your own accounts, please see our documentation on WHM (Web Host Manager). WHM is the Reseller-only panel used for creating new cPanel accounts.
If you are a Dedicated or Virtual server owner who has purchased a cPanel license and you wish to install cPanel, please see our guide on How to Install cPanel.
Pages in category "CPanel"
The following 41 pages are in this category, out of 41 total.