Change your cPanel password
From Acenet Knowledgebase
Below are instructions on how you can change your cPanel password though your Client Area.

[1] Log into your Client Area.
If you do not have access to your Client Area with us, you can request a password reset here:

[2] Under Services, click on My Services: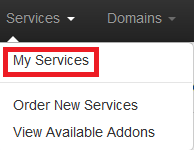 [3] Click the service that you want to change the cPanel password for.

[4] Click on Change Password under Actions to the left.

[5] Input the new password in the New Password field and the Confirm New Password field.

[6] Click Save Changes. Your cPanel password has been changed.